Intelligence in Kinetics
Kinex® is a technically advanced intelligent yarn which uses your own kinetics to help you.
Call Us
+421 905 626 982
+ 421 52 715 3257
Kinex®
... is an intelligent yarn which gives you the freedom in movement. Endure longer with healthy skin.
Let your kinetics work for you! Endure longer with healthy skin and maximize your performance with Kinex® !
Excellent Abrasion Resistance & Low Friction
Kinex® has a very low friction coefficient and the highest abrasion resistance when compared with PTFE and PA braided with PTFE. That is why it is ideally suited for use in critical areas where friction occurs due to the movement during sports and casual activities: e.g. armpits, nipples, groin, thighs, knees, toes, soles, heels.
Kinex® IS A VERY INTELLIGENT YARN WHICH USES YOUR OWN KINETICS TO HELP YOU. You can move more easily and the skin is not irritated: no chafing, blisters, raw skin and no infections. YOU CAN ENDURE LONGER WITH HEALTHY SKIN AND MAXIMIZE YOUR PERFORMANCE in socks or clothes made of Kinex®.
Kinex® is also ideal for people with skin diseases and offers them an immediate relief through its pampering function.
Excellent Washing Resistance (NF EN ISO 5077) _ Seamless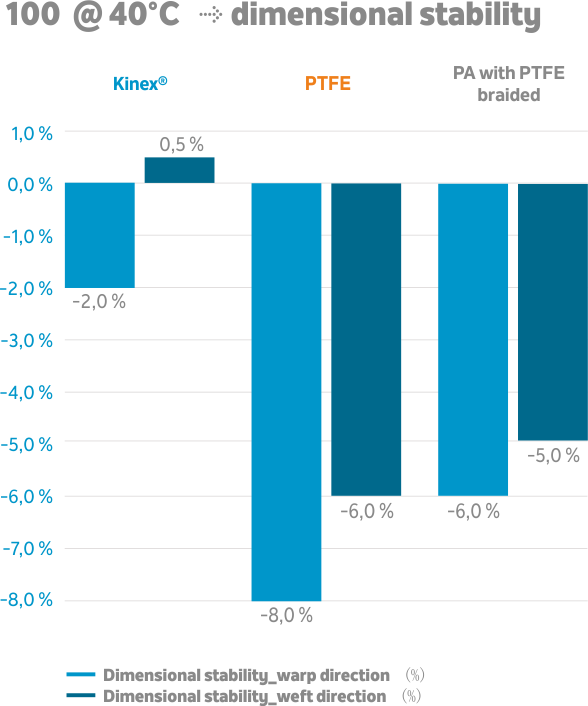 The washing resistance of Kinex® is better than that of PTFE and PA with PTFE.
Thanks to this and to the highest abrasion resistance, the clothes made of Kinex® will endure longer.
Water Retention
Water Vapour Resistance(Ret (NF EN ISO 11092) & Transvap) _ Seamless
Moisture transfer kinetic_drying kinetic_water retention rate.
The retention rate of Kinex® is higher than of PTFE. This brings more comfort to you.
Evaporation Dynamic
The Evaporation Dynamic of Kinex® is the highest with the lowest vapour resistance.
Sweat is released more efficiently and your skin remains dry.
Thermal Properties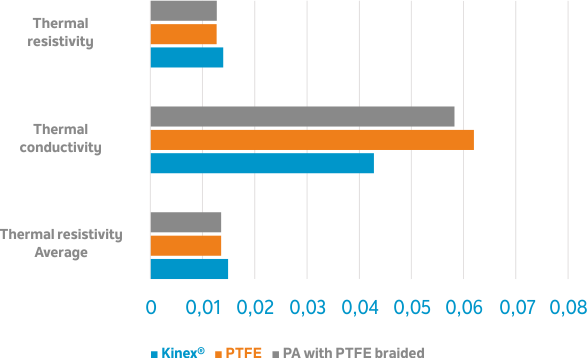 Kinex® has a higher thermal resistivity and a lower thermal conductivity than PTFE. These excellent thermo-insulation properties  keep you warm in cold environment conditions and allow the release of excess heat in warm environment conditions.